Winchester Writers' Festival 2016 Writeup
The Winchester Writers' Festival is always a big event. I always meet a whole bunch of interesting people, and I always learn a whole lot of new things. Because a lot of elements of the event are the same every year, I think it's probably not worth trying to write out an introduction to it every time. If you want an introduction, you might like to take a look at my writeup of the Festival in 2014, which covered my first impressions about it (though I only had a one-day ticket), and/or my writeup of the Festival in 2015, when I was chosen for a scholarship and so could afford to turn up for the whole three days.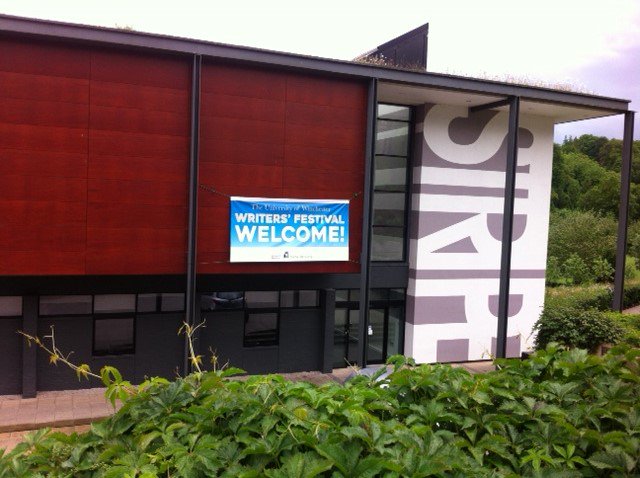 This year, in terms of a ticket, I went for something of a middle ground. Having had a bursary the first year I went and a scholarship the second (and having got a steady job after that), I felt as though I'd had as much financial help as I could justify. As great as it would have been to turn up for the whole three days, I decided to just go for a Saturday and Sunday ticket, and turn up for the free evening events on the Friday.
I've read at the Friday open mic three years in a row now, but this is the first time I've got a recording of it. I pretty much just handed my phone to a friend (thanks for that!) so the audio quality isn't great, but thanks to the university's microphone and speaker setup I think it's at least comprehensible. I had prepared to read Osiris Likes This, but since the length of each open mic slot was dropped from five to four minutes, there wasn't quite long enough and I went for The Three Idols instead.
Some of the other readers were fantastic. One guy turned up in a kilt and did this whole Scottish shopping-themed audience participation poem! If I'd known what he had planned, I definitely would have tried to get a recording of that too. The other Friday evening activities included a talk by H L Dennis, who originally met her editor at the Writers' Festival, and an editor and agent panel, which was particularly interesting because I'd already spoken to two of the panelists last year.
Saturday at the Festival always involves a range of talks: four in all. That was why I opted for just a Saturday ticket when I first came in 2014 – it offered a chance to hear a wide variety of people speak without spending a lot on a multi-day ticket – and I'd definitely recommend it for any other new writers thinking of giving the Winchester Writers' Festival a try. Any combination of days is a good choice, but if you're turning up for the first time and just want to go for one day, then your best bet is probably to make it the Saturday.
There's such a vast range of talks to choose from on this day that I don't think it would do much good to get into the four I personally chose, but hearing John Berlyne speak about genre fiction was definitely a highlight. I feel like I've got a good handle on Sci-Fi and Fantasy – with the exception of an unfinished NaNoWriMo RomCom, that covers every novel I've ever written – but I still learned a lot.
Saturday wrapped up with a reading by Tania Hershman and the announcement of this year's competition winners. I didn't have any luck this time around, but I've actually been entering since long before I started attending the Festival in person. The competitions offer the option of an adjudication – feedback on your entry – which (although it costs a little extra) is pretty rare and quite useful. Even if you don't have the luxury of turning up to the event to see who won, you can still enter, and I'd really recommend having a go. I'll do my best to post a reminder ahead of the competition deadlines next year.
Sunday was a comparatively short day (welcome after a late finish on Friday and a full day on Saturday!), comprised entirely of a single long workshop. I opted for one on scriptwriting and story structure, run by Julian Unthank, who judged the script pitching competition I'd won the previous year.
Pretty much the main thing I picked up from this – building on what I'd learned from the optional scriptwriting module on my MA – is that scriptwriting is tough. Really tough. There are well established conventions as to how a story flows from start to finish, and you've got to hit all those key plot points within an extremely particular timeframe. A 57 minute TV programme must take exactly 57 minutes: no more, no less. That's partly why structure is so important, though one plus point is that if you can structure a screenplay properly then that'll transfer over to structuring a novel.
I'll be honest: I really struggled with this workshop. But then, I didn't pick it because I thought it would be easy. I'm still hoping to do something with my elves in the long coat, and I think that working out a rough storyline is a good first step towards that. I also feel as though I've got far more practice hammering out dozens and dozens of flash fiction pieces than I do carefully thinking through novel-length storylines, so anything to do with structure in general is probably handy. I'll be keeping in mind everything I learned in this one day for a long time to come, and it might even make a difference to the flash fiction as well.
Of course, as well as the official, organised goings-on at the Festival, there were also a whole lot of opportunities to simply hang around and talk to other writers. There are always plenty of self-published authors at the book fair, and it seems as though everybody's got a different take on the whole process. Being able to talk to a bunch of different people – whether they've set up at the book fair or just turned up for the festival, and whether they've got a book out there or are just getting started – is always wonderful. A local writers' group does much the same thing, but on a far smaller scale. A huge part of the benefit of something like this Writers' Festival is simply that with this many dedicated writers all gathered in one place, you're bound to pick up something useful from somebody.
So that's pretty much the highlights from this year. I've left quite a bit out given that much of the experience hasn't changed a lot since 2014 and 2015, so check out those links if you want a more comprehensive exploration of the event, but at the same time I feel as though the nature of the Festival as a whole has changed somewhat since I first got involved. When I first started, I wasn't all that well established as a writer (not that I am now!) and was mostly looking for advice on where to take work that was still at quite an early stage. Thanks to the MA and its substantial final project, this was the first year that I've had a complete, polished manuscript to bring to agents, editors and publishers, and that's made quite a difference to how the whole thing played out.
Having done this a few years in a row now, I'm starting to feel as though what you do with the year ahead of the Festival makes as much difference to the event as what you do while you're there. I'd hope that 2017's event is just as good as this one was, but since that'll probably depend on what I get written in the meantime, that's something to work on now!